Copypasta from my old character profile!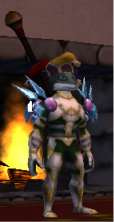 Date Created: 04/23/2010
Race: Foxen
Class: Druid
Clan: Sleeping Forest
Last In Game: 08/28/2010
Name: Aidan Fuentes
Age: 25
Race: Black Foxen
Specialty: Ranged Magic, Staffs
Bio: Coming from a family of soldiers, mercenaries, and field nurses, Aidan felt he had to find his place on the battlefield like the rest of his family. He set out to do just that. He eventually landed a job as a Camelot Guard. Using his family knowledge of tactics and battles, he climbed through the ranks. Aidan was with the guard for three years, peaking as a field captain. Unfortunately, he suffered a fall-from-grace and was discharged for reasons he doesn't talk about.
Aidan gathered his belongings and left Camelot, taking his armor with him...
Stats
Kills: 3,088
Deaths: 49