A couple bugs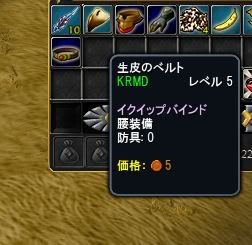 Quest reward from Brighteye in Earthrise. Belt has no armor though (kinda useless for a quest reward in a newbie area).
Also, the same camp has 2 locations marked for spawn points. One spot is missing an Ankh model, but functions correctly. The other spot has an Ankh model, but doesn't serve any function.
Agent Ferret wrote:
Alright, I guess I'll post my little layout issue.
My game is now sporting the Mexican flag.
It looks like either your video card isn't sufficient to handle the game, or you need to update your graphics drivers.
Piggypops wrote:
were trying to figure out that bug where users go to empty earthrise or empty corsica. Can't reproduce it 100% yet, but working on it. Also there is a fail safe built into the game now, if the player is out of bounds or in a area called "nothing" (outside the game map) they are teleported to Corsica.
I've had this happen twice in Earthrise, so I went about trying to replicate it. I can't get 100% success, but I've had it happen more often when suddenly terminating my connection (rather than logging out first) and then logging back in. This only happened twice while testing it though, while 20% of the time I ended up back in Corsica when re-entering the game. Otherwise it usually doesn't cause any issues.